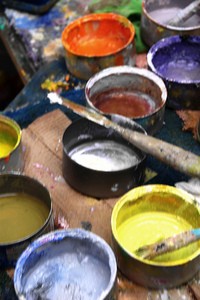 When snow falls, many of us like to build snowmen, throw snow balls, or make snow angels.
But have you ever used snow paint to have fun in the snow?
Snow paint is really easy to make. All you'll need to make your own snow paint is:
Food coloring
Water
A spray bottle
Simply add some drops of food coloring to the spray bottles; the number of drops depends on the type of color you want. Add some water to the spray bottle. Then head outside and start painting!
Fun Snow Paint Colors
Have some fun!… Experiment by mixing different colors together for even more color possibilities.
Here are a few great color combinations you'll want to try:
2 drops Red + 3 drops Yellow = Orange
3 drops Red + 2 drops Yellow = Salmon
4 drops Blue + 1 drops Green = Turquoise Blue
7 drops Red + 4 drops Yellow + 2 drops Green = Light Brown
4 drops Red + 1 drops Blue = Pink
I'm a roller coaster junkie, a weather enthusiast, a frequent traveler, and a numismatist. My love for coins began when I was 11 years old. I primarily collect and study U.S. coins produced during the 20th century. I'm a member of the American Numismatic Association (ANA) and the Numismatic Literary Guild (NLG). I've also been studying meteorology and watching weather patterns for years. I enjoy sharing little-known facts and fun stuff about coins, weather, travel, health, food, and living green… on a budget.
...