This post may contain affiliate links. If you buy thru these links, we may earn a commission at no additional cost to you.
---
Fall foliage is taking the stage and beginning its beautiful spread across the northeastern and western United States.
So where are the best places to see fall colors?
The Huffington Post suggests 10 great places to enjoy colorful fall foliage (in no particular order):
Aspen, Colorado
The Catskills in New York
Columbia River Gorge Oregon
Great Smoky Mountains in Tennessee & North Carolina
Ohio (No place in particular is mentioned, though the eastern Foothills are pretty.)
Eastern areas of Quebec Canada
Lake of the Ozarks Missouri
Litchfield Hills, Connecticut
Colorado (The mountains are beautiful places to see the fall colors!)
The Rocky Mountains
10 Great Places to Start A Fall Foliage Tour
The folks at Livability.com suggest these as the best starting places for a tour of the colorful countryside:
Asheville, NC
Albany, NY
Lancaster, OH
Wausau, WI
Bloomington, IN
Torrington, CT
Glasgow, KY
Decatur, AL
Castle Rock, CO
Duluth, MN
Best States For Viewing Fall Foliage
Beginning in early September and lasting through November, millions of trees from sea to shining sea will be displaying bold colors of red, gold, yellow, orange, and purple.
Maine is where some of the earliest color pops up each year, so if you just can't wait until the colors show up in your area, head to New England to see some of the finest colors that Mother Nature has to offer!
TIP: While taking the interstate is a great way to quickly get where you want to go, it's the back roads that provide some of the most stunning fall color tours.
Following are the states where fall foliage will turn brightest and when… from coast to coast:
Click each state to see the best places to go!
New England / East Coast
South
Midwest

West
Pacific Northwest
Here's the Fall Foliage Report: Tips For Tracking The Fall Colors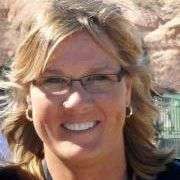 As a homeowner, I primarily write about weather safety tips that everyone should know in order to protect their home and family during major weather events. I especially like to share seasonal "outside the box" ideas that most wouldn't think of in the Spring, Summer, Winter, and Fall. The weather events I've personally experienced include: Hurricanes (while living in Florida), Tornadoes (while living in Indiana, Texas, and Tennessee), Earthquakes (while visiting California), Blizzards (while living in New York and Indiana), and Flooding (while living in Tennessee).