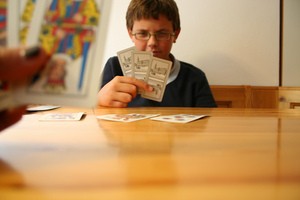 A storm & kids often don't mix very well.
Young children can become frightened of the loud thunder and pounding rain and hail.
Older children may quickly bore of having to wait indoors for the rough weather to pass.
But there is hope for parents, caregivers, and teachers who need to bring entertainment and fun to kids stuck indoors during a storm!
Here's a short list of fun activities for kids to do during a storm:
Play Board Games
Play Charades
Read a Book
Tell or Make Up Stories
Watch a Good Movie
Take this as an opportunity to get a little inventive!
Plenty of common household items can double as entertaining playthings, especially for young children: