This post may contain affiliate links. If you buy thru these links, we may earn a commission at no additional cost to you.
---
My friend Andy is an astronomy buff. I am not.
That's why I love it when he reminds Jim and I of the best nights that we can see the coolest things in the skies above. (You know, like meteor showers projected for our area, eclipses, etc).
I thought I'd share with you one of the coolest tools that Andy found.
It's called Starry Night.
It explains exactly which stars and planets are appearing right now above your house (or hotel, or boat, or camping tent… or wherever you might be). In our case, it's our hot tub!
Here are some great stargazing tips:
How Starry Night Works
It starts out showing the skies above Toronto, Canada.
All you need to do to change it to your area is enter your own Zip Code then change to the current time and the map will update automatically.
If you want to, you can choose specifically what you want to see:
Planets
Stars
Constellations
When you see the picture, then click N, S, W, or E to view each sky separately.
Try Starry Night yourself!
More Fun Ways To View Starry Night
There's also a Google Gadget for Starry Night, so you can view this information any time from your Google homepage.
Get Starry Night for your iPhone.
View Starry Night on a Mac computer.
Other Fun Night Sky Tools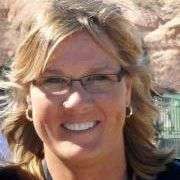 As a homeowner, I primarily write about weather safety tips that everyone should know in order to protect their home and family during major weather events. I especially like to share seasonal "outside the box" ideas that most wouldn't think of in the Spring, Summer, Winter, and Fall. The weather events I've personally experienced include: Hurricanes (while living in Florida), Tornadoes (while living in Indiana, Texas, and Tennessee), Earthquakes (while visiting California), Blizzards (while living in New York and Indiana), and Flooding (while living in Tennessee).