This post may contain affiliate links. If you buy thru these links, we may earn a commission at no additional cost to you.
---
Following are the responses received to our Katrina Blog — a request for photographs that depict "good news"… people helping people and having a POSITIVE impact on the lives of Hurricane Katrina's victims.
If you haven't sent in your photo yet, you've got until September 30th to submit a photo that shows you or your family doing something that's POSITIVE and DIRECTLY RELATED to the ongoing relief efforts.
Reminder: Every photo = another donation to the American Red Cross!
Here's the form to submit a photo. (expired)
To get us started, here's one I took today:
A family in Nashville, Tennessee toting their donated items into the Red Cross Shelter located at the Clearview Baptist Church in Brentwood.
On the way to church on Sunday, Jim bought some bottled water to donate at
BCC's drop-off location
.
Bellevue Community Church is serving as a drop-off location for Hurricane Relief efforts. Here are some of the bottled water and canned food items donated this past Sunday.
And now yours…
One family from Leiper's Fork, Tennessee purchased so much water for Hurricane survivors, they needed a trailer to haul it to the disaster relief drop-off location!
A dad and his sons helped organize a car wash with proceeds going to a Hurricane Katrina Disaster Relief Fund in Franklin, Tennessee.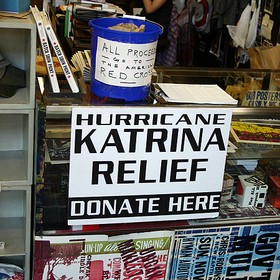 Small business owners,
the Hatch Brothers
collect cash donations for the American Red Cross in their downtown Nashville store.  
This was the scene all over the Franklin/Cool Springs area on Saturday, September 10th… EVERYONE was having a yard sale with the proceeds going to the Hurricane victims.
There were LOTS of people at the Katrina yard sale in the parking lot of the Marriott in Cool Springs! People seemed eager to scoop up anything they even REMOTELY were interested in, just for the purpose of being helpful.
More than a week after Hurricane Katrina struck, people in Tennessee were still purchasing canned food items, bottled water and paper products for those displaced by Katrina's aftermath.
Practically every day, a new Disaster Relief tent opens up around Franklin, Tennessee — yet another location accepting food, water, paper products, and a few even accepting clothes, games & personal care items for those displaced and residing in Red Cross shelters in the Nashville area.
It's not much, but I counted up $15.50 in pennies that had been piling up in our "spare change jar". This will be added to our family's cash donation to the American Red Cross next week.
A handful of Red Cross shelters in Franklin, Tennessee are accepting clothing, games, toys, and other personal care items. I loaded up our Jeep with things like socks, jeans, shaving cream, purses, playing cards, books, and kids' toys.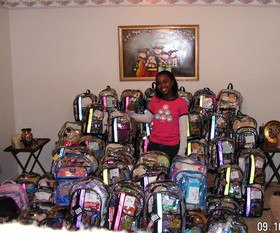 Jeremiah & Tawana Rutledge write: This is a picture of our daughter Taylor Rutledge with the 60 backpacks she collected from her "Hugs For Hurricane Victims Drive" she held for 2 weeks in our neighborhood. She even emailed her flyer to some schools and asked them to participate. Byrns Darden Elementary and Kenwood Elementary emailed her back and agreed to help and they did. We delivered them to Grace Works ministries on yesterday (Sept. 17, 2005). She came up with this idea because she wanted to give the kids from the Hurricane a hug, so her clear backpacks were filled with toothpaste, tooth brushes, hand sanitizer, stuffed animals, candy, pencils, crayons, paper, socks, towels, washcloths, soap and some had clothes. The general idea was each backpack had some things the kids needed, something to write or draw on, a toy and candy to try to take their minds off of what was going on. We are very proud of her and we really appreciate the schools' and the community's help with her drive.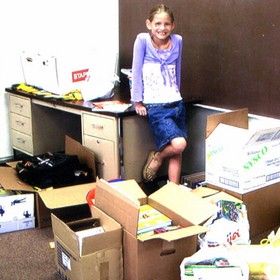 Kathleen R. writes: My 4th grade daughter was very concerned for the kids that lost everything in the hurricane and wanted to make sure they weren't bored. She decided she wanted to send them books and coloring books and crayons, etc. She went to her principal at her school and asked if he would let her have a drive to collect things. She has collected over 600 items to send. This is a picture of her with all the donations after the first week. She collected books, coloring books, crayons, puzzles, games, matchbox cars, backpacks, and some other school supplies.
Scott Hunt (of The Southern Pride Band) writes: Jeff Bailey and I decided to write about Hurricane Katrina as a way to express our emotions of what we had been seeing on the news. I had been watching the approaching storm, landfall and the destruction that followed. Just seeing all of the people affected by the storm brought back the feelings of when my house was struck by a tornado in Alabama back in 1995. We were in the house when the twister picked it up and slammed it back to the ground. My family survived but it was several hours before our families could reach us and take us to safety. I remember the feeling of seeing my father walking down the road over the debris to check on us. After all of these years it is still hard to talk about it. We were out of our house for over two months. I know what these people are going through. The song is personal to me. My heart and prayers go out to the victims of Hurricane Katrina and now Rita. (You can hear their song, "Eye Of The Hurricane"
here
.)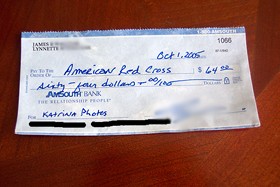 As promised, this is the check we wrote to the American Red Cross to help those whose lives have been affected by Hurricane Katrina. The amount represents a small personal donation, in addition to $1 for every photo we received showing everyday people helping Katrina victims. Thanks to all who participated!
The Next Chapter…
We will continue to post other photos related to Hurricane Katrina, as we receive them, here…
Danielle Michaelson writes: This is a picture of the inside of my home in Slidell, Louisiana.
Chisa Burwell writes: When it happened, I grieved as if it was happening to me first hand. I struggled to do all I can @ 24 years old. I was turned away from different people and different places in Philadelphia yet I REFUSED to take NO for an answer! I will continue to do help as much as possible. Even one year later, I still cry when I see something about it on the news. My expression in the picture is many different ones. The main one is HOW CAN SOMETHING LIKE THIS HAPPEN IN OUR OWN BACKYARD?
Blogs Monitoring Progress After Katrina
MetroBlogging — a number of bloggers are providing regular "real-life" updates from the perspective of those who are living through the changes in New Orleans.
100 Days Of Blogging — an archive of blog posts from reporters who went to places and conveyed stories that weren't otherwise being told.
Nola U.S. — regular updates on how things are progressing from New Orleans.
At Snopes various "facts" and "rumors" about Hurricane Katrina are either validated or debunked.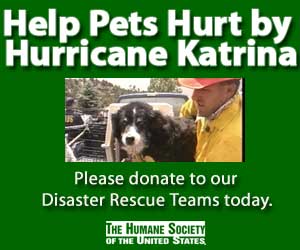 UPDATE: 
This stunning hurricane video of Hurricane Katrina's arrival near Slidell Louisiana captures the utter destruction felt throughout region: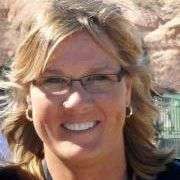 As a homeowner, I primarily write about weather safety tips that everyone should know in order to protect their home and family during major weather events. I especially like to share seasonal "outside the box" ideas that most wouldn't think of in the Spring, Summer, Winter, and Fall. The weather events I've personally experienced include: Hurricanes (while living in Florida), Tornadoes (while living in Indiana, Texas, and Tennessee), Earthquakes (while visiting California), Blizzards (while living in New York and Indiana), and Flooding (while living in Tennessee).