I'm sitting here wishing for snow on Christmas Eve…
But this year, I'm thinking it's just not happenin'!
Looks like the closest I can get to snow right now is to enjoy these one-of-a-kind snow creations.
Check 'em out…
This is a tribute to some of the most creative snow artists alive.
Hope you enjoy these awesome pictures of snow men, snow women, and snow people… just doin' what snowmen do best:
Hangin' out and enjoying the snow!
Best Snowman Photos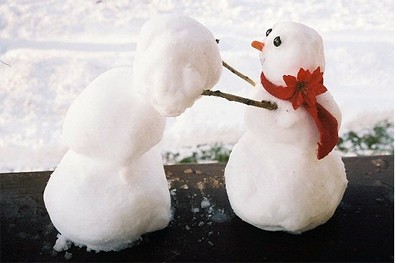 Snowmen As Tree Faces
Warm Weather Snowmen
More Fun & Funny Snow Stuff
The Best Snow DOG Pictures Ever!
FUN!… Write Your Name In The Snow
Government Dollars At Work: The Snow Plow
Tips For Taking Winter Pictures In The Snow
School's Out, But Not For Snowmen
Tis The Season For Ugly Sweaters!
...