This post may contain affiliate links. If you buy thru these links, we may earn a commission at no additional cost to you.
---
I saw this on CNN…
It was a summary of some of the best survival gear and survival kits for those who enjoy the great outdoors.
In light of the heroic, yet tragic story of James Kim (his survival efforts were superhuman), it only makes sense to keep items like these on your person whenever you go out & about. (Even if you only keep them in the trunk of your car.)
The LifeGear company is a consumer brand that was created to provide families and individuals with the best emergency and disaster preparedness products. Their products are designed to provide the most practical and effective survival solutions at affordable prices.
Their motto is this:  Peace of mind, wherever you go.
Whether that peace is in your own mind when you're out & about, or in the minds of your loved ones who might be worrying about you when you're away from home — survival kits like these could make all the difference in how quickly help reaches you and whether or not you survive at all.
Life+Gear provides high-quality products to help you and your family prepare for emergencies, whether at home, at work, or out having fun.
The 10 Best Survival KITS:
2-Person Deluxe Home Emergency Survival Kit with Backpack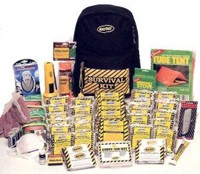 AAA Road Adventurer Emergency Kit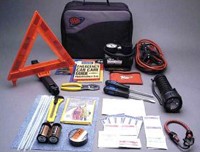 Super Ark – Survival Kit – 1 Person For 3 Days
Sports & Outdoor Survival Kit For The Outdoorsman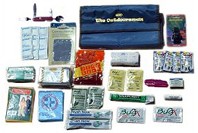 4-Person Backpack Emergency Survival Kit
2 Person Ultimate Deluxe Backpack Emergency Kit
Emergency Survival Kit Backpack
4-Person Deluxe Home Emergency Survival Kit
The 8 Best Survival TOOLS:

Crisis Preparedness Handbook: A Complete Guide To Home Storage & Physical Survival

Magnesium Survival Fire Starter
Helpful Survival Tips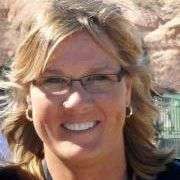 As a homeowner, I primarily write about weather safety tips that everyone should know in order to protect their home and family during major weather events. I especially like to share seasonal "outside the box" ideas that most wouldn't think of in the Spring, Summer, Winter, and Fall. The weather events I've personally experienced include: Hurricanes (while living in Florida), Tornadoes (while living in Indiana, Texas, and Tennessee), Earthquakes (while visiting California), Blizzards (while living in New York and Indiana), and Flooding (while living in Tennessee).