I saw this on CNN yesterday…
It was a summary of some of the best survival gear and survival kits for those who enjoy the great outdoors.
In light of the heroic, yet tragic, story of James Kim, it only makes sense to keep items like these on your person whenever you go out & about. (Even if you only keep them in the trunk of your car.)
The LifeGear company is a new consumer brand predicated upon providing families and individuals with optimal emergency and disaster preparedness products specifically designed to provide practical and effective survival solutions.
Their motto is this:  Peace of mind, wherever you go.
Whether that peace is in your own mind when you're out & about, or in the minds of your loved ones who might be worrying about you when you're away from home… survival kits like these could make all the difference in how quickly help reaches you and whether or not you survive at all.
Life+Gear provides high-quality products to help you and your family prepare for emergencies, whether at home, at work, or out having fun.
10 Best Survival Kits:
2-Person Deluxe Home Emergency Survival Kit with Backpack
by Prepare4disaster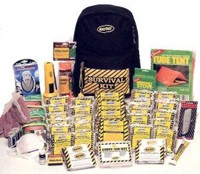 Survival In A Bottle
by Eddie Bauer
AAA Road Adventurer Emergency Kit
by LifeLine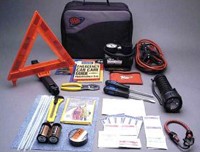 Wings Of Life Backpack
by The LifeGear Company
Super Ark – Survival Kit – One Person For Three Days
by The Super Ark
Sports & Outdoor Survival Kit For The Outdoorsman
by Prepare4Disaster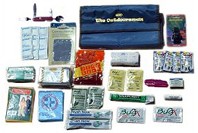 4-Person Backpack Emergency Survival Kit
by Quake Kare
Grab & Go 2 Person 3-Day Emergency Kit
by LifeSecure
Life Essentials Kit
by The LifeGear Company
4-Person Deluxe Home Emergency Survival Kit
by Quake Kare
8 Best Survival Tools:

6-in1 Personal Safety Device
by The LifeGear Company

Emergency Thermal Blankets
by Quake Kare

Emergency Crank Radio
by Eton

Crisis Preparedness Handbook: A Complete Guide to Home Storage and Physical Survival
by Jack Spigarelli

Waterproof LED Flashlight
by The LifeGear Company

Cold Weather Heat Packs
by HeatMax

U.S. Army Survival Manual
by Department of Defense

Magnesium Survival Fire Starter
by 4 Star Military Surplus
More Like This