This post may contain affiliate links. If you buy thru these links, we may earn a commission at no additional cost to you.
---
Have you ever seen it snow when it's above freezing temperatures outside?
Well, snow is one of those fun weather phenomena that sometimes doesn't seem to follow Mother Nature's rules — much like these snow skiers (who are wearing shorts).
At What Temperature Does It Snow?
If you're wondering what temperature does it have to be to snow… the answer is 32 degrees Fahrenheit.
It may seem illogical, but snow can still fall when it's above 32 degrees outside — and it actually happens fairly often.
There is some pretty "cool" science behind this phenomenon.
And, as you'll see, it's rather common for it to snow when it's 35 or 40 degrees outside — sometimes even warmer!
Here's everything you want to know about the temperature for snow to fall… and melt.
How Can It Snow Above 32 Degrees?
Meteorology (the study of weather) is a pretty complex science. But there's one thing that's common knowledge about water: it's got to be 32 degrees for it to freeze.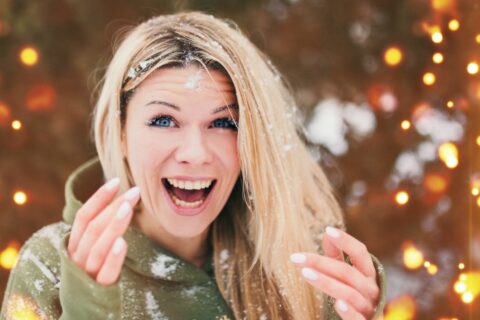 So, how can it be that frozen precipitation such as snow flakes and flurries could fall when it's above 32 degrees at the ground level?
The Science Behind The Temperature For Snow
It's actually very simple….
Yes, it DOES have to be 32 degrees or colder for snow to form.
But it DOES NOT have to be freezing at the surface for snow to hit the ground.
Generally, it is many degrees cooler in the levels of the atmosphere where snow forms than it is at the ground level.
The air temperature decreases by about 5.6 degrees Fahrenheit every 1,000 feet in altitude through adiabatic cooling. So while it may be, say, 40 degrees at ground level, it could be closer to 10 degrees just 5,000 feet up.
Snow can form as long as there's enough moisture in the atmosphere where temperatures are at or below freezing.
As the snow falls through warmer segments of the atmosphere, it begins melting into rain.
At What Temperature Does Snow Melt?
If the air temperature is above 32°F, snow and ice will start to melt. At or below 32°, it will remain frozen.

– Source
Snow can actually survive a descent of 1,000 to 2,000 feet before melting.
So, if the air mass in the upper levels is colder than 33 degrees and only a very thin layer right at the ground is above freezing, it's possible for snow to reach the ground — even when surface temperatures are in the high 30s or 40s!
However, if snow hits the ground when surface temperature readings are in the 40s (or higher), then the snow will begin melting almost immediately upon impact.
That means there certainly won't be much – if any – snow accumulation when it's 40 degrees. So, that's not going to give you much of a chance to make snowmen or have a proper snowball fight with your friends!
What's The Highest Temperature For Snow?
Snowfall was once recorded in Jacksonville, Florida at 53 degrees!
The best chance of seeing a 50 F temperature and snow is when the air is dry and the snow is fairly heavy. This will only last briefly though. The temperature will rapidly cool off and the snow may change to rain.

– Source
Where Can It Snow When It's Above Freezing Outside?
It's possible for snow to fall anywhere when it's above freezing temperatures outside, as long as all 3 of these conditions are met:
It must be moist enough.
It must be freezing in the right levels of the atmosphere.
That layer of above-freezing temperatures must be very thin and close to the ground.
Conditions like that are most often found in these locations:
Areas near water – Bodies of water can help moderate nearby surface temperatures. While the shoreline might be in the high 30s, the temperatures just a thousand feet up may be at or well below 32 degrees.
Big cities – Dense urban areas create so-called heat islands. Those are places where asphalt, concrete, and other manmade materials absorb rather than reflect heat and create a thin layer of ambient warmth very close to the surface. So, while it may be 40 or 45 degrees at the street level in a large city, it might be 30 degrees just 1,500 feet up – a scenario in which it could snow above freezing.
Other localized pockets of warmth – There are any number of other situations where the layer of above-freezing surface temperatures may be very thin yet temperatures a few hundred feet up are below 32 degrees. These include areas in the immediate vicinity of factories, mines, and caves.
More Cool Facts About Snow
Okay, so science explains how it can snow above 32 degrees.
But what else is there to know about snow?
Heaps! Here are 10 more cool facts about snow that will blow you away: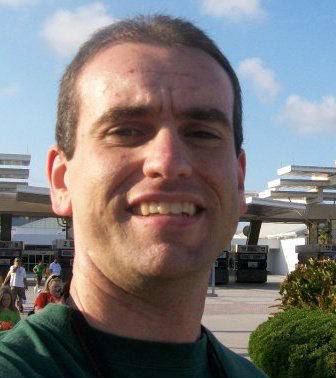 I'm a weather geek from Florida who's been studying meteorology and watching weather patterns for years! I enjoy sharing little-known facts and fun stuff about the weather. I especially like sharing interesting details about weather events and conditions that can affect you… and how to prepare for Mother Nature's ever-changing weather patterns.