This post may contain affiliate links. If you buy thru these links, we may earn a commission at no additional cost to you.
---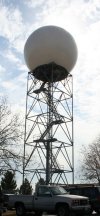 Weather radar can be a complicated thing to understand.
But there are many great websites where you can learn about severe weather and track storms right along with the professional meteorologists on television.
While I don't recommend trying to out-guess the National Weather Service on where a storm might be headed, understanding a little bit about the radar and tracking storms on your home computer can help give you additional lead-time to prepare for approaching severe weather!
Radio Detection And Ranging – RADAR
Weather RADAR plays an extremely important role in tracking and forecast severe thunderstorms.
If you drive past a weather RADAR, you see what looks like a giant soccer ball on top of a tower. Inside that soccer ball is a giant parabolic dish which looks a lot like a satellite dish. The soccer ball is there to protect the dish and its electronics from the very elements it is up there to detect. The dish spins in circles tilted at various angles above the horizon – controlled by the radar operator inside the adjoining National Weather Service (NWS) building.
The approximately 150 RADAR units being used by the NWS are Doppler RADARS which were put in place in the 1990s. The Doppler RADAR not only indicates "reflectivity" (RADAR signal bouncing off of something in the atmosphere and returning to the dish), but also "velocity" (the speed – toward or away from the radar – the thing is moving).
I'll let you do some more homework on the details of that if you really want to, but let's just say this:
If you are looking at "reflectivity" images – generally bright colors (red, orange etc) mean nastier weather.
If you're looking at "velocity" images, you don't want to see contrasting colors side by side – that's an indicator of wind shear (wind blowing in opposite directions).
We could spend all day (heck – an entire college career) on this, but we're going to stop at that. If you have questions – ask away in the Comments below!

Best Websites For Weather Radar
The National Weather Service

These folks are hard to beat. After all, it is their radar we're looking at. At this website, you click on the dot nearest you and it'll bring up the Doppler RADAR at that location. You have the option to toggle on or off topography, counties, rivers, highways, cities, warnings, a legend – and even the radar image itself. There's even an application where you can determine how far storms are from any point on the map. Very nice. On the left side, you'll see options for "Reflectivity," "Velocity" and "Rainfall."

AccuWeather
AccuWeather has been providing weather information to the masses for a long, long time. Their website is user-friendly and full of detailed data you can sort through or skip past. You can click on the part of the country you are interested in and keep clicking until you get down to the local level. You're going to get mostly the main "reflectivity" product here. But, if you subscribe to their "pro" site, the options are many.

Intellicast
This is a website maintained by the WSI Corporation. They're one of the two or three companies who make the high-end television graphics computers. It's the same kind of thing here as the others. Click on the region of the national map in which you are interested. The options are a bit more limited here, but it's a nice picture and you can "loop" it to see storm movement.


Weather Underground
This is a great site with lots and lots of options! Once you've zoomed in to the "local" radar, look on the far left side of the radar image. There's a vertical bar there which says "Advanced Radar Types CLICK." Check it out! Lots of tools to use in your storm analysis.
College Of Dupage
This is also a great site if you want to really get your hands dirty on radar weather information! You have a number of "reflectivity" and "velocity" tilts – along with estimated precipitation totals and other storm analysis products.
In the end, it all comes down to what you're comfortable with and how much information you really want at your fingertips. I tend to use the College of Dupage site more than most others. For the real nitty gritty, I go to the AccuWeather professional site. There is a lot of great information there – but you do have to pay for it!
I'm a TV weatherman in south Texas. I get blamed for the bad weather, but I also get credit for the beautiful days. I absolutely love my job!